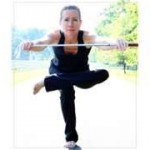 Yoga is beneficial for anyone who plays a sport.
Yoga can be especially helpful for golfers.
Yoga will help improve flexibility, strength, balance, and breathing in a golfer. It also helps prevent back problems caused by twisting the spine and helps to improve range of motion so a proper swing can be fully executed. Golfers may be prone to one-sided or uneven muscle development. Yoga postures will help strengthen these weak areas and help ease muscular tension. Golf can also lead to tight hips, quads and hamstrings so golfers benefit from yoga poses that open up the hips and stretch the hamstrings.