The Best Ways on How to Clean a Yoga Mat.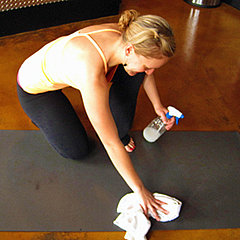 A clean yoga mat is an essential thing for a yoga practitioner. A yoga mat can collect a lot of organic matter – sweat, dead skin cells, even water that gets spilled from your water bottle. It can also collect dust, dirt, oils and grime from off the floor of the studio or home. Over time, the mat can become dirty, discolored and smell funky. It can even become the ideal environment to host a variety of bacteria and viruses that could cause allergic reactions and skin infections. So here are some simple tips on the best way on how to clean a yoga mat successfully.
These tips will help:
Keep your mat soft and sticky.
Prevent bacterial growth.
Maximize the life of your mat.
When you get a new mat it is important to clean it first. Most yoga mats have a slightly strong rubbery smell and feel slick and oily. It is normally harmless but the mat could feel very slippy if you start using it right away. The rubbery smell also tends to stick to your skin, something that can be distracting when you are doing your poses.
There are many ways to clean a yoga mat; depending on your time.
If you are short on time and want to give your mat a quick clean like right after a practice. You can use a mat cleaner. Simply spray the cleaner onto the surface of the mat and wipe off.  If you have a few extra minutes and your yoga mat seems especially dirty, let the cleanser sit and soak in a bit before cleaning it off. Wipe the yoga mat with a wet cloth or sponge. When the cleanser has been thoroughly removed, rub the mat down with a soft dry cloth, like a small towel or washcloth. Repeat on the other side.
You can purchase mat cleaners at studios and other locations where mats are sold; or you can also make your own homemade mat cleaner.

Homemade Yoga Mat Cleaner:
It is very easy to make a spray-on mat cleaner.  Try either of these recipes.
Water/Vinegar Spray
For a very simple, natural antibacterial/antifungal mat spray, simply mix 1 part warm water with 3 parts white vinegar. You can also try adding a few drops of essential oils like eucalyptus, lemongrass, lavender, mint, or tea tree oil to add a nice aroma and increase the germ- and odor-killing potential. Use liberally on your mat and wipe off.
Soap/Water Spray
Another easy cleanser is a simple soap solution of 2 or 3 cups of water and a few drops of mild detergent. Use sparingly and be sure to rinse thoroughly if using this cleaner to wash away any soap residue.
If you have more time to clean your yoga mat:
Place your yoga mat into your washing machine on gentle cycle.  Add cool water, 1/2 cup of vinegar and 1 tsp of eco-friendly detergent. When finished hang to dry.
Another option:
Place your yoga mat into your bath tub;submerge the mat in warm water. Let it soak for about 5-10 minutes (the longer you let it soak, the more thoroughly it will be cleaned).Gently rub down both sides of the mat, top to bottom, using a soft bristled brush, sponge, a piece of terrycloth, or even just your hands. This will help the mat to develop that soft, grippable surface for which sticky yoga mats are so prized. Rinse the yoga mat out very thoroughly in clean water, making sure to get rid of any soap residue. To dry your yoga mat, simply lay it on top of a dry towel and tightly roll the mat and towel together like a cinnamon roll. Squeeze out excess water by pressing with your hands or feet. Unroll and hang to air dry. Make sure you let it dry out completely before storing to prevent mold and mildew.