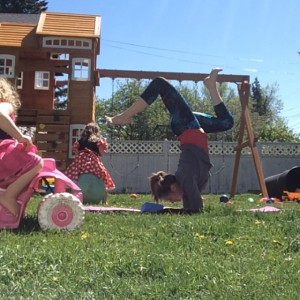 Danielle Letain  RYT 200, RPYT200, 
Danielle is a busy mom of three and a family day home provider. There is usually a baby crawling on and around her mat, and kids running all over the place. She is learning to find the "calm within the chaos", with ample opportunities to practice! She is a genuine, light hearted and caring person.
Danielle attended her first yoga class out of desperation, in a search to find something that would help with her postpartum depression and often crippling anxiety. After her first class she was hooked, after her second class she knew she wanted to become a yoga teacher. Danielle is passionate about sharing the gift of yoga with others, especially moms and families, and people struggling with anxiety and depression.
Her favorite things about yoga are how it makes you feel, every class you feel a little bit lighter, and the more you practice the happier you are; how we learn to transfer the lessons from our mats into our daily lives, specifically; accept what is, be where you are and be okay with it, allow yourself to feel anything that comes up for you, believe in yourself and your life, everything is always as it should be, you are always enough (of course there are many more lessons but those are her favorites!) To Danielle, yoga is one of the best things you can do to create space in your body, mind, heart, and life!
You can expect Danielle's classes to be a mix of foundation, alignment based postures, with humor, fun, and bits of wisdom throughout. Leave her class with your mind and body feeling stronger and more relaxed.
Danielle is formally trained in Vinyasa Flow through Soul Hot Yoga in Calgary, AB. She has dabbled in Iyengar, Hatha, Ashtanga, and Mindfulness Meditation.
Teaches Gentle Relaxation Yoga
For more info about her classes and to register, please call Danielle at 403.507.0448